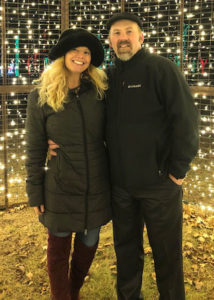 We are both active members of Legion Post 111 in Somerset Wisconsin.  My wife, Brandy Wilson, an Army Veteran, held the position of 2nd Vice-Commander at Post 111 for several years.  She handled membership and other IT-related matters for the post.  As for me, I am the Adjutant officer for the Son's chapter.   We have been with our post for about 5 years now, ever since moving to Somerset in 2015.   We have participated in many Legion events and have seen firsthand the need for funding for the various causes that the Legion supports.
WC Engraving has been making military-related engravings and customized plaques, among other products, for over 4 years.  We currently have plaques hanging in Post 111, the USO office at Camp Pendleton, and numerous other Legion and VFW posts around the country.  Our most recent major veteran-related work was for the "Somerset Military Veterans" wall at General Sam's Christmas Light Tour in Somerset Wisconsin.  The wall consists of over 400 names of local veterans, with plans for further expansion in 2021.
WC Engraving is located west of Somerset WI.  Our 1800 sq.ft. shop consists of five laser engravers and is accompanied by a full wood shop and stone shop for custom projects.  We do all our own design work, allowing for quick turnaround for custom projects.
Our work is driven by our passion to help our veterans and the organizations that help them and our communities.